UAB To Face Hoop Dawgs In 2009 and 2010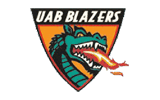 The Birmingham News reports that the UAB Blazers and Georgia Bulldogs will face off in basketball this season and in 2010. The Bulldogs will play at Bartow Arena in Birmingham in 2009 and will host the Blazers at Stegeman Coliseum in 2010.
We have added the game to our tentative 2009-10 Georgia Bulldogs Basketball Schedule. However, the date has not been announced yet.
Related Links: